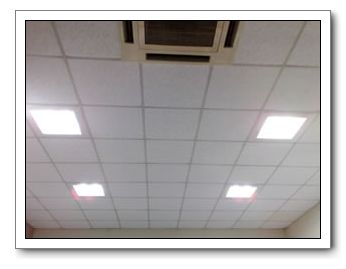 specification
.LED W 36W (9W*4)
.Power consumption <40W
.Luminous Flux 3000LM
.2M Illumination) 350 lux @Center
.Operation Voltage AC 110~240V 50/60Hz
.Operation temperature -30 C ~ +50 C
.Color temperature 3000K/6300K
.Dimension 605*605*40mm
.Weight <1.5Kg
.Material of case ABS+Al+PS cover
.Operation life 40000Hr
Assembly procedure:
.Turn off AC power
.connect the power line before put into frame
.Turn the power on
Advantage of this LED light:
.Saving the electricity, the luminance is high: Can reach general 80W firefly's mere lamps and lanterns (T8 or T5) Result.
.LED light does not have infrared ray and ultraviolet composition, does not injure the human body and other animals and plants.
.The light is steady and without glare, do not injure eyesight.
.Have long performance life (greater than 20000Hr) ,Can save and change the cost that the light is in charge of and trouble changed.
.Moisture silver, environmental protection is environment-friendly, cherish the earth and leave the later generation the space that descendants continued life forever.
.LED is able to bear shaking not breaking.